[facebook url="https://www.facebook.com/FashionFXF/videos/1590019581066905/"]
Hello guys,
You are live with fashion cross functional. Today is going to be about the 4 questions a financier asks himself when evaluating a fashion business plan.
As you probably know, I used to work in audit and finance. And one of my missions was to evaluate company loan applications and to decide whether I should grant the loan. I had some fashion companis applying for a loan. However fashion companies were almost systematically rejected because the financial estimates were not solid enough plus the activity is seen as very random and risky by financiers. And it was obvious while reading the financial estimates that the brand was struggling as a business and you cannot let that show.
The one thing I observed is that you focus a lot on the creative and production part. Of course it is very important to monitor that part properly. But being a business owner is different. You need to understand that you are supposed to conduct a business. A business means that you have to build a system that enables to generate sales and profits that can last in time. Whereas other people might have chosen more rational activities such as selling softwares or books, you chose to do that in fashion.
Some of you may probably have a business partner who takes care of all things business and operations while you figure out the creative part. But from what I observed, lots of you are launching on your own.
If you are alone in your business, you have to figure out the creative part as well as the business part on your own.
So in order to properly plan where you money will go once you launch, it is good to get a business plan drafted. Just as a reminder, a business plan is a document that helps you explain a project, the strategy that you will apply to make a business out of your concept, with the related financial projections. You need such a document before you start your own fashion brand, so that you are aware of what you need to do to keep your company afloat and where you put your money. And if you plan to ask for funding or if you plan to work with other business partners, it's good to have a business plan to show that you know what you are doing. As I said in another live video, it shows that you know the conditions in which you are launching, you know your market and it indicates that you have a plan to get your collection sold. It's a sort of a courtesy you do to someone who will lend or give you money. It's the least you can do. It doesn't mean that it's over if you don't do exactly what's written in the business plan. Reality often happens to be different from the business plan. But it's the least you can do, the first step to reach out to an investor or a banker. Consider it like a resume when you apply for a job.
There are 4 major points a financier controls when reviewing a fashion business plan.
#1 – Show that you can generate sales
In your financial estimates, you will have to deliver a profit and loss account. This document shows how your business model generates profits. And it starts with the sales line.
One of the mistakes I see you do is to think that finance is just about putting figures in charts. It's more than that.
Finance is no magic.


I had a designer once send me a file that she called business plan. It was a video of a photoshoot and as a caption in it, you could read "we will make $23 million sales". You don't just add figures like that. You don't just say you will make $23 million sales without explaining exactly what you will do.
So before you announce the amount of sales you will make selling your brand, you want to make sure to explain how you will do that. So the one thing a financier likes seeing is market data. You need to have your target customer defined and you need to have understood that ideal customer's lifestyle. You have to do some research to understand how that customer lives, how much he or she buys in average, where they shop, what kind of magazines they read etc. But all this shows that you've done your work and you know who you are selling to.
The other analysis you need to do is your competition. You need to position your brand compared to other similar fashion brands your target customer already buys: what makes you different. Then you price your product accordingly. If you decided to price your product higher than your direct competitors, it is good to have a value added on top of your competitor's offer. For example, you can say you sell very limited editions, they are rare. So rarity would be the value added that you can offer on top to "explain" the value added.

Once you've done that, you need to define your sales distribution system. So based on the market data you collected, in which area should your brand be present? Which popup store or mutlibrand do they visit? You need to be where your ideal customer hangs out. Is there a particular Facebook group he or she hangs out in? Or maybe he's or she's on Instagram? So you need to figure out a system to reach out to that ideal customer. This is also the reason why you need to be present on social media, reaching out to your audience at least 3 months before the launch. And once you target the social media, you can get a feeling of what they want and have them book your product in advance.
Once you figured out what your sales distribution will be, you can evaluate your sales. And again, it has to be correlated with what you've developed before in the sales distribution strategy.
Another piece of advice I can give you is to look at the final figure you got in the end. Let's say you plan to make €250,000 in a year. You have to bring it down to a more tangible data. What does €250,000 a year mean in number of days? So if you decide for example to work 250 days during the year, it means that you need to make at least €1,000 per day to reach your yearly goal. So you keep that in mind every time you go to work and when you step foot into the office, you know that today, you need to generate at least €1,000 sales. Thinking like this helps a lot understanding the kind of effort you need to provide to reach financial goals.
This is for example a feedback we can work on together in the fashion business plan training that starts soon. I review your work and you get individual sessions with me to go through your very own business plan.
#2 – Build a system that enables to make profits
The second thing you need to show is that the system you implemented is able to generate profits.

What does it mean?
It means that all the strategy you implemented enables to sell enough of your fashion products to cover all the costs involved.
So as for the sales, you need to list up all what you need to generate those sales. So to start with, there are your production costs. You need to understand how much per unit, you are spending in your production costs: fabric, trimmings, production costs and delivery costs. You need to know which % it is in comparison to your retail sales price. This will give you the gross margin.
Once you get that, you need to list up all you need to keep your business going. So for example, maybe you will need to rent a boutique, there will be electricity charges. Maybe you will hire an admin temp so you will need to evaluate the salary and the related social charges. Then you will maybe work with a communication agency to take care of social media and reach people who can influence your target audience. You need to expense all that. You will need to organize sales events, rent a nice location, buy some food/drinks and hire a PR specialist to invite adequate guests so this is another expense you need to account for. You will have insurance costs to take into account.
So list up all what you need to do and evaluate the expense.
When you are done with that, you see how much profit you have left in the end.

At the beginning you often end up with a loss at the end. So you need to play: either you figure out a way to change your business model. So maybe you will find a way to sell more volume. Or you will try to cut the costs. For example, maybe you finally decide that you won't be needing an agency to do your social media anymore. But it also means that you need to understand, in your head, that you will be spending time doing social media/newsletters every single day and that is less time that you spend designing and negotiating with clients. Or maybe you will need to work with a cheaper workshop but it means that it will involve more supervision time from you. Or if you find a cheaper fabric maybe you will not be able to price your product at the same level.
So really understand what your concrete actions generate in your business. Or if you decide to sell more quantities for example but you said it was limited edition, which justified for example that you price it higher. If you sell more quantities, will you be able to keep the price point you chose?
#3 – Show that you will never be short in cash
One thing that you will need to deliver in the business plan is a cash flow analysis. The cash flow analysis shows how money flows in your business.
This is one of the main reasons why a fashion company goes bankrupt: cash problems.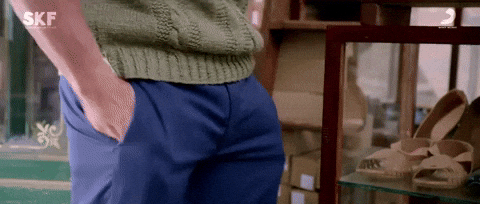 This can be quite problematic in fashion because advance a lot of cash in advance before being paid by your customer. You will probably need to advance cash to pay for fabric, production. Since you begin, I guess you need to build the trust with the suppliers so they will ask you to pay earlier than a more established brand. This is cash you need to advance. And even if you sell, you invoice your customer, if you work with somebody else's store with a multibrand, you will not be paid immediately. Maybe even your product will be on consignment so you will need to advance cash to pay for the products you'll send there and they will pay you when it sells.
So in the cash flow analysis you need to present how you will deal with that.
For sure you will need some security cash at the beginning. In finance we recommend to have at least 3 months of fix costs as a security when you start a business. It enables to show that you are able to face the situation where you have absolutely no sales for 3 months.
So you need to show each month, how much you will receive and how much you will expense. And at the end of each month, I recommend you to show you are positive.
Otherwise it means that you are in the red and it's not a good sign for your business.
In terms of cash management, we also check that you do not have too much loan. Depending also on how strict is the bank but in a healthy business, we consider that loan should not represent more than 50% which is a maximum. In order to lower that rate, you need to bring at least as much capital as you your loan. So for example if you ask for 20kEUR, it is good if you can also bring 20kEUR as capital in your company.
So again, in the fashion business plan training, this is something we go through. In the bundle you receive during the training, you will be able to build your cash flow analysis. So you can fill it out and you get individual sessions with me to go through all what you've done, what can be optimized.
#4 – Business continuity: build a system that can last
The last point we ensure when we analyze a fashion business plan is business continuity. We try to understand if the business is solid and well built to continue. So for that, we essentially ensure there is enough equity left in the company. In the equity there is the capital you bring at the beginning and at the end of each year, it increases with the profits you make. If you have for example 20kEUR of capital, you make 5kEUR losses, then in the end you only have 15kEUR equity left. This is a sign that financiers look at .
And in some cases when there is something that doesn't work in the business model, the company cumulates losses and it decreases the equity every single year. So your capital gets "eaten" year by year by your losses.
Some fashion companies have no more equity left in the end. This is a very bad sign for a company. Normally if you ve figured out the profit part, showing business continuity is not an issue.
*******************************************************
Did you enjoy this article? 
Wait, there is more! View our free tool to find out how many of your fashion pieces you need to sell before making profits.