Hi guys,
Probably like you these last few months, my newsfeed has been swamped with articles related to Nasty Gal's bankruptcy. I do not know if it is because I watched the Girlboss TV show on Netflix:  maybe having the impression to share Sophia Amoruso's joys and tears on screen made me care but reading all those articles made me really sad. Her bold approach to the fashion industry was a beacon of hope for me.
I adored the fact that she was young and built an empire with nothing more than an Ebay account.
I adored the fact that she made it with a strong edgy vintage point of view, a take on fashion she imposed.
I adored the fact that she extended the concept and had the courage to start her own clothing line.
Unfortunately, whichever the industry, at some point an entrepreneur cannot escape some hard facts.
When I read about the bankruptcy, even if I wrote a book that partly points out the significance of finance, I felt really sorry to conclude that once again, finance won.
So I felt the urge to share a few lessons any emerging fashion designer should take out of her story. I know that for lots of you, finance, funding, cash, figures are just not your thing. However if you are on your own, it is better for the future of your brand to face reality. There will be a time when you will have to negotiate with other professionals.
Show people that you are not another dreamer. Show them you have what it takes to be a reliable businessperson.
#1 – Drop the vanity act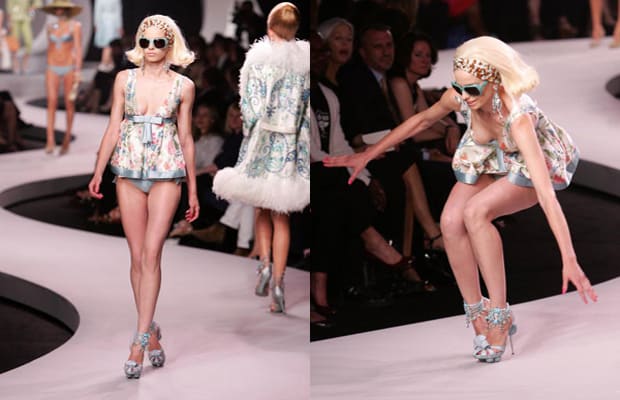 Once you experience your first financial reward, it can be tempting to use the extra cash to show you are able to play in the big league.
With its first success, Nasty Gal moved its headquarters in beautiful but far too large offices. Besides, the company also opened a 500,000-square-foot fulfillment center in Kentucky to handle its own distribution and logistics although it could have outsourced it to a third company. 
And since we are talking about vanity, I seize the opportunity to go a little bit off topic…Stop using vanity metrics to monitor your business. By vanity metrics I mean the number of followers and likes on social media for example. It is fine (and flattering, admit it…) to see the size of your audience grow. However excuse me in advance for being down to earth: your banker or your fabric supplier will not be impressed that you organized a glamorous fashion show and got 100,000 more likes on your Facebook page.
Keep a cool head. Look at what really matters: business.
#2 – Repeat after me: fashion is a business
It is undeniable. Creativity is vital to fashion. However do not forget that it remains a business. And as any other business, even if design and image is a major part of what you sell, you also need to structure your company on very solid grounds.
What matters is that the system you built generates enough money to sustain your business.
As many pure players did, Nasty Gal opened bricks-and-mortar stores. Once you go into this kind of expenditures, you need to be sure to generate enough revenues to cover the related expenses (rent, sales and administrative staff salary, just to name a few) and make profits. The second store was opened a few months only after the first store.
It would have been safer to stabilize the whole in a profit generating system before opening the second shop.
#3 – Learn to make yourself useless: build processes

Sophia Amoruso built her own fashion business from scratch. After the years, she still remained essential to her business. When she pursued other personal projects, her company suffered from her absence.
To avoid that and always in the spirit of lesson #2, while your business will grow, you will need to chunk down your success formula in written processes and train other people to be able to replace you.
This enables you to maintain the quality level after scaling your business.
#4 – Prefer customer loyalty to customer acquisition
Nasty Gal is said to have spent substantial money in advertising and marketing to acquire new customers. And yet those customers did not necessarily stay loyal to the brand.
There appears to be several reasons for the absence of a loyal customer base. The more obvious one I observed in this case is the unequal quality of the products and services delivered. You just need to read the reviews on the website before the bankruptcy. Already at that time, customers seemed to be unhappy with the quality of the products.

Before spending money in acquiring new customers, you need to ensure that your system is reliable enough to deliver the products and services you promised to your existing customers first.
#5 – Understand the difference between sales, profits and cash
Sales is the money you make in exchange of a product or a service you deliver to your customer.
Profit is what is left of that money once you withdraw your expenses, your charges and taxes. To make a business sustainable, you need to generate a profit making machine. A machine means that you have a system and methods in place that enable to generate sales in the long term, maintain a good quality level etc. Do not get involved into fixed costs (like the rent of a brick and mortar in the case of Nasty Gal for example) unless you have a reliable analysis that shows it will enable you to multiply your sales.
Cash is the sum of what is in your bank account and in your cash register. Running out of cash is the reason why companies go bankrupt. The factors that impact your cash are:
Your profits. This one is quite obvious. If the amount you invoice is higher than the amount you spend, you should have cash left in the end. When Nasty Gal paid heavy marketing and advertising costs to acquire one-time only customers (who probably spent less than what Nasty Gal spent to acquire them), it killed the business.
Payment terms. The ideal situation is to be able to impact your buying payment terms to your customers. In the fashion business, this is a tricky game since fabric suppliers and manufacturers do not know you yet and expect you to pay immediately. On top of that, if part of your business is wholesale or if some of your products are in a consignment stock, you will not be paid immediately. It means that you will have to advance a significant amount of cash before getting some back. However designers are sometimes able to negotiate with suppliers and manufacturers. The rule of thumb: Get paid as early as you can and pay as late as you can, without damaging the relationship with the supplier. Negotiate.
Most of the bankrupt fashion business died because they did not go further than the sales logic and did not take the time to build solid process to generate sustainable profits. Think profit more than sales. 
*******************************************************
Did you find this article interesting?
Find more tools to help you with your fashion business in the number one FXF guide. "The Fashion Business Plan" by Bako Rambini is available on Amazon.
*******************************************************
To receive more news and fashion designer tools, follow us